Rhode Island Restraining Order Attorney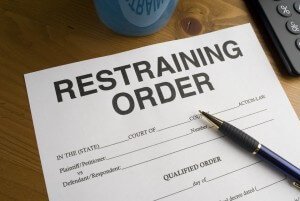 The Rhode Island family court attorneys at the Law Office of Elisha L. Morris believe that everyone has the right to feel safe. The fear of domestic violence is an unfortunate reality for many of their clients.  When there is an imminent threat of domestic violence by a spouse or someone with whom a client has a close relationship, it may be necessary to obtain a restraining order.  The purpose of a restraining, or protective, order prohibits an abuser from coming within a certain distance or making contact with the victim.
What is a Restraining Order?
A restraining order is defined as an official court order issued to protect individuals from any threat of physical or verbal abuse. Restraining orders protect victims from being physically abused, threatened, harassed or stalked. Essentially, there are several forms of restraining orders, a civil restraining order, criminal protective orders, emergency protective orders or more. A civil Restraining Order can give individuals custody for children, orders for pets, and judgments on the property. Under specific circumstances, a civil restraining order can force the abuser to leave the home. Civil restraining orders cover several types of protection and typically can be enforced for longer periods of time. Criminal Protective Orders are put in place by a judge to protect a key witness or someone who has been a victim of a crime. These orders demand the restrained individual to avoid all contact and communication with the victim/witness.
(c) It is the intent of the legislature that the official response to cases of domestic violence
shall stress the enforcement of the laws to protect the victim and shall communicate the attitude
that violent behavior is not excused or tolerated. Furthermore, it is the intent of the legislature
that criminal laws be enforced without regard to whether the persons involved are or were
married, cohabitating, or involved in a relationship.
Emergency Protective Orders call for immediate action to be taken to protect potential victims. Individuals who fear present danger including elder abuse, child abuse, stalking or domestic violence should contact the police department immediately to put a short-term order in place. If a long-term order is necessary, a protective order with a longer shelf life can be obtained from the courthouse.
Rhode Island Family Court
In 1961 an act establishing the first statewide family court in the nation was created in Rhode Island and became law. The main goal of Rhode Island Family Court was to develop a court with a keen focus on legal problems concerning families and children. The RI Family Court exists to assist, protect, and potentially restore families whose well-being may be endangered. The jurisdiction of the family court includes delinquency, child marriages, neglected or abused children, paternity proceedings and domestic relations. These proceedings encompass overseeing acts of physical or emotional abuse and include intervening any behavior that may potentially lead to such acts.
The attorneys at the Law Office of Elisha L. Morris understand the urgency of domestic violence issues, and will swiftly guide clients through all of the necessary procedures in order to obtain a protective order as quickly as possible.
Any threat of physical harm is a high-alert situation which should be handled by the proper authorities and with efficient legal counsel. The family court lawyers understand the severity of these situations and are here to help clients navigate the emotionally toiling process of restraining orders and domestic relation petitions.
Ms. Morris and her colleagues realize that sometimes protective orders are inappropriately filed,for the purpose of obtaining immediate custody of children, when there has been no incident of domestic abuse or violence.  The family law attorneys at the Law Office of Elisha L. Morris are experienced in handling these situations and will advise clients appropriately.
Whether you are seeking protection from an abuser or if you are the alleged abuser, Attorney Elisha L. Morris and her team of family law attorneys will work to provide you with the best representation possible.