Divorce Attorney in Providence RI
Are you looking for a divorce attorney in Providence RI? Attorney Elisha Morris is compassionate to your needs and will aggressively work to protect your interests. A divorce agreement will have a lasting impact on your life. Many adjustments have to be made after a divorce. The right agreement will make this tough time a lot easier.
What does a divorce attorney in Providence RI do?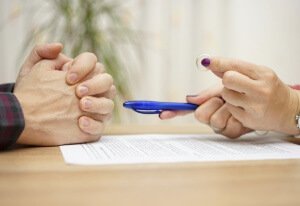 A divorce attorney in Providence RI will use her legal expertise to help you in a wide range of family court issues. This may include:
Property Division
Child Custody
Child Support
Alimony
The average day of a divorce attorney includes:
Preparing Documents
Communicating with Clients
Negotiating
Preparing for Court
There are many ways a knowledgeable divorce attorney can help. They include:
Finding Assets: Divorce is an emotional experience. Not everyone has the appropriate coping skills. Sometimes a spouse will attempt to hide marital assets. Attorney Elisha Morris will locate hidden assets, to make sure you have a fair claim.
Negotiating Divorce Terms: Divorces are faster, easier and less expensive if you and your ex can agree outside of court. Litigation cases can be long, expensive and draining. You want a divorce attorney in Providence RI that has excellent negotiate skills. Attorney Elisha Morris has help many clients agree to fair terms before seeing a judge.
Evaluate Case Outlook: Since Elisha has representation so many divorce clients, she knows how the judges react. She can give you a reasonable picture of what you could expect in court. An evaluated case outlook will prevent you from accepting an unfair settlement offer. You may want to sign anything to put the divorce behind you and avoid going to court. Your ex probably doesn't want to spend the time and money in litigation We will protect your rights and make sure you get a fair settlement.
Child Support Calculations: Our law office can calculate a fair child support payment. There are formulas and calculators you can access online, but nothing is set in stone. Each case is different. Elisha will evaluate your case and fight for you to have a fair child support payment.
Child Custody Outlook: You want a divorce attorney in Providence RI to give you a realistic custody outlook. Using RI's criteria, we will fight for a fair custody arrangement. Alisha will help you get an appropriate amount of time with your children.
Attorney Elisha Morris
Attorney Elisha Morris is experienced, knowledgeable and aggressive. She can help you achieve fair terms in your divorce agreement. Call our office at (401) 421-4038 to schedule a free consultation. You will be able to explain your case and Elisha will tell you how we can help. A divorce agreement should not be taken lightly; let Attorney Elisha Morris protect your rights.