Rhode Island Child Custody and Visitation Lawyer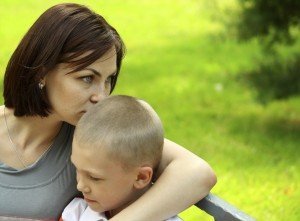 In the State of Rhode Island, Child Custody and Visitation is generally determined by what will be in the best interest of the child or children of the marriage. At the Law Offices of John E. MacDonald, Inc. Rhode Island Family Court Attorney Elisha L. Morris has served the community for years through her expertise in navigating the family court system. Attorney Morris' assistance has helped clients obtain their best possible outcome in all domestic law issues.
The Child Custody Lawyers of The Law Office of John E. MacDonald understand that your children are your first priority. Dealing with the arduous decisions of custody and visitation can become overwhelming. These weighted decisions could have a long-term impact on the emotional and psychological well-being of your children. We take these matters seriously and fully commit our time, effort and resources to assisting you through this process. Choosing the right child custody lawyers to represent your children's best interest is an important decision during your divorce proceedings. You want to ensure that your legal counsel is knowledgable in the laws and legal guidelines in your specific state. It is also crucial to secure experienced legal counsel with a proven track record of success.
Rhode Island Child Custody Lawyers
As a Rhode Island Child Custody and Visitation Lawyer, Attorney Morris has represented countless clients with difficult and varied family legal matters to successful outcomes. Some of these victories have been reached in spite of the complicated nature of the cases involved – cases where custody of the minor child was successfully moved from an in-state mother to and out-of-state father. Elisha has also achieved outstanding results in complicated child visitation cases.
While Attorney Morris is adept at maneuvering through complicated family law issues, she also realizes that there are times when a prompt, efficient, and reasonably priced alternative is required, particularly in simple matters.
Rhode Island Family Court Attorneys
The successful litigation of numerous custody cases, two of which involved a change in the physical placement of the minor children from an in-state parent to and out-of-state one, and the continued excellence in the quality of representation for all Family Court matters is the major reason clients return to The Law Office of John E. MacDonald and Attorney Morris' capable representation.
Attorney Morris' aggressive legal strategies balanced with compassion and discretion has earned her a stellar reputation as one of the leading Child Custody lawyers in the Rhode Island area. Family court matters often require a high level of focus and attention. When dealing with such sensitive information and serious decisions one should retain the best legal counsel possible. Having an experienced attorney on your side could heavily influence the outcome of your case.
If you're considering the avenue of divorce or legal separation and are seeking experienced legal representation to defend on your behalf contact the Child Custody Lawyers of The Law Office of John E. MacDonald. Attorney Elisha Morris is ready to conduct a free consultation with you to discuss your case. Child Custody can be an extremely difficult area of the divorce process to navigate. Call (401) 421-4038 to speak with Rhode Island Child Custody Lawyer Elisha Morris today.
Do I Need a Child Custody Lawyer?
Facing child custody matters can be an extremely sensitive and emotional subject. Child custody requires a number of difficult decisions and challenging conversations. The first thing to address is determining if your circumstance would benefit from the services of an experienced child custody lawyer. Our child custody law firm has been able to assist many families through some of the most difficult times of their relationship. Ultimately, the purpose of child custody hearings is to determine the best living plan for the children involved. If you are going through a difficult child custody circumstance it is always wise to seek the counsel of an attorney.
Complex Child Custody Matters
Many parents find themselves in even more complex situations concerning child custody because they are unaware of the complex legalities a child custody case may involve. Some parents seek to represent themselves but find that they are unable to effectively represent themselves in such personal legal matters. Undergoing the representation of a child custody lawyer is the best option for parents looking for the highest chance of winning custody. An experienced attorney will properly prepare your case and have a full understanding of your best legal options concerning the custody of your children. For years our child custody team has delivered outstanding service to parents seeking credible child custody advice.
Rhode Island Child Custody Laws
Each state factors in various aspects when determining child custody cases. However, the most important factor is what is deemed ultimately best for the child or children involved.
In cases where a parent is not granted custody under normal circumstances, that parent is granted "reasonable visitation". Reasonable Visitation is defined as a court order, which permits the non-custodial parent to schedule routine visitations for the child. Visitation rights can be revoked in cases where the non-custodial parent is proven to be unfit or visiting the non-custodial parent is not in the best interest of the child.
Child Custody Mediation
Some child custody cases require the parents to enter mediation sessions to resolve their custody disputes and find common ground. These mediation sessions frequently address the parameters of child custody and visitation schedules. Many parents are often unaware of the confidentiality of mediation sessions and that the information shared in these sessions is strictly prohibited from being revealed in the actual child custody court proceedings. Mediation is often a huge benefit to both parties, allowing them to define legally the structure of their family and sometimes saving thousands of dollars in litigation fees. Learn more about our child custody mediation services.
Child Custody laws and statutes can be a complex subject to navigate and understand. There are many laws that could play a major role in the outcome of your case, The Uniform Interstate Family Support Act, dealing with the legalities of child support across various state lines, the enforcement of wage holding and more. Whether you are a custodial parent or non-custodial parent, our experienced legal team can offer sound legal advice for your child custody needs. If you have questions regarding your rights as a parent call (401) 421-4038 to schedule your complimentary consultation with our experienced attorneys today.
Do Your Research
It is imperative to do your research and ensure that the child custody attorney you plan to hire has an extensive background in custody matters and a successful record of child custody case results. Check out the case results of our Rhode Island Family Law Office here. Setting a high standard for choosing your child custody attorney could make all the difference in the outcome of your case. Don't leave your children's future to chance. Be sure they have an attorney representing their best interests.
F.A.Q.'s About Rhode Island Child Support Orders
Q. What should I do if I've received child support orders, but I am not in Rhode Island?
A. If you no longer reside in Rhode Island, we highly suggest securing the representation of a Rhode Island Child Custody lawyer to represent your best interest. Under specific circumstances, the Family Courts have allowed non-residing clients to testify by telephone.
Q. Can my attorney file a motion for relief on my behalf?
A. Yes. You have the right to retain the representation of an attorney at your personal expense.
Q. Is it possible to seek relief from a child support order while being incarcerated?
A. The Department of Corrections has created a process in conjunction with the Rhode Island Family Courts which allows inmates to file motions for relief of child support orders.
Q. Child support payments are being taken out of my paycheck. What should I do?
A. In the state of Rhode Island, employed individuals are subject to direct wage withholding based on their child support obligations. In the instance that an employer does not withhold payments from the employee's check, that employee is legally obligated to personally make payments to the RI Family Court.