Newport Divorce Attorney Elisha Morris
When facing the possibility of a divorce, separation, custody or child support and visitation issue, you want to know that there is someone nearby that can help. As a member of the Newport community, I am ready to represent your legal rights and help you reach the best possible outcome. We have been serving Newport Rhode Island as the top Divorce Lawyers and Family Law Firm for over 15 years.
— Elisha Morris
Dealing with family law issues like divorce and child custody can be challenging, but trying to navigate the Rhode Island legal system on one's own can be impossible. Leaving your divorce or legal separation in the hands of an inexperienced divorce lawyer can dramatically impact the outcome of your legal proceedings.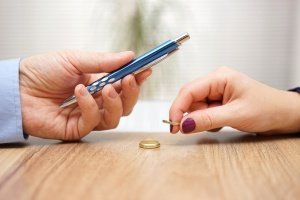 As a Newport Divorce Attorney John E. MacDonald has gained respect throughout the state by negotiating and litigating successful outcomes of hundreds of divorce, custody, and child support and visitation cases. Family law attorneys Elisha Morris and John E. MacDonald protect their clients' interests, while guiding them through every aspect of their divorce cases, and protecting their rights as spouses or as parents.
Rhode Island Family law is ever changing. Newport Divorce Attorney Elisha Morris remains current and focused on the latest changes and nuances to Rhode Island divorce laws. Ms. Morris and Mr. MacDonald focus on providing practical and effective solutions for all of their Newport clients' dissolution of marriage cases.
Newport Family Court
Newport Family Court:  The Newport Family Court is located at the Murray Judicial Complex
45 Washington Square, Newport, Rhode Island 02840-2913 on the second floor.  The clerk's office is located on the first floor, immediately to the right of the metal detectors.   The phone number for the clerk's office is  (401) 841-8350.  The cities and towns which this court serves are Jamestown, Little Compton, Middletown, Newport, Portsmouth, and Tiverton.
If you need a Newport Divorce Attorney call Elisha Morris today at (401) 421-1440.